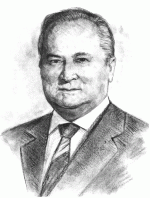 Roman, Stephen Boleslav, mine executive (born at Velky Ruskov, Slovakia 17 Apr 1921). Roman immigrated to Canada in 1937 (at the age of 16 years), working as a farm labourer before joining the Canadian Army in 1942. After developing a medical condition he was discharged in 1943.
He became interested in the stock market, organized several natural-resources ventures, and in 1953 acquired an interest in a uranium prospect that formed the basis of Denison Mines Ltd. During his day, it would become the largest independent uranium mining company in the world.
As president and later chairman of Denison, Roman expanded and diversified his firm and was periodically involved in controversies over nuclear politics and FOREIGN INVESTMENT. He was a Canadian delegate to the Atlantic Community Conference, 1962. There, Mr. Roman introduced a resolution calling for all governments of the Free World to confront growing Communism by working together to assist less fortunate countries to attain economic and political stability. Recipient of honorary degrees from St. Francis Xavier University and University of Toronto, Mr. Roman was made Knight Commander of the Order of St. Gregory the Great by Pope John XXIII and was made a Member of the Order of Canada, 1988. A former Director, John G. Diefenbaker Memorial Foundation, formerly Director, Royal Agricultural Winter Fair, Toronto, Honorary Member, Royal Canadian Military Institute, and Canadian Mining Hall of Fame Inductee, 1977.
Stephen Roman was the spearhead behind the vision and building of the Slovak Cathedral of the Transfiguration of our Lord in Ontario. Consecrated by His Holiness, Pope John Paul II, 1984, before it was completed. The Cathedral, today, is a prominent landmark north of Toronto. Stephen Roman, who died in 23 Mar 1988, never forgot his Slovak spiritual heritage.
sources: Canada's Digital Collections
The Canadian Encyclopedia